STYLISH HENS AND GIRLS' GETAWAYS
We had the time of our Lives. The memory of our magical time at my hen weekend at Dar Jaguar with my best friends will be with us all forever… We lost ourselves in a stylish dream of 1001 Nights. Everything was organised beautifully for us and was the perfect mixture of indulgence, relaxation, culture, adventure and fun.
Hello Girls!
I am so excited to share our stylish and sophisticated Girls' Getaways with you!
Working as a couture fashion designer in London, Brides tell me all the time that they struggle to find somewhere original and distinctive to celebrate their hen with their best girlfriends, especially if they don't want it to involve stretch white limos, pink bunny ears and sweaty nightclubs.
Well that's no longer true…
Here at Dar Jaguar, we've created something really special…. Whether you are wanting to shop til' you drop and be seduced by the souks, enthralled by exotic new experiences like camel riding, belly dancing and excursions to the desert, or you just want to be spoiled and indulged with a relaxing massage by our candlelit rose filled fountain, we will create the perfect hen celebration just for you and your best gals. And I haven't even mentioned our stunning "1001 Nights Banquet" on the rooftop terrace to party the night away…
Located right in the centre and in the best part of Marrakech, Dar Jaguar has established a sparkling reputation for designing and hosting some of the most spectacular hen party packages in Marrakech. You can see our popular, "Sex and the City" hen package below.
But don't take our word for it, have a look at the gorgeous photo gallery below, as well as our "Moroccan Roll" film and all the lovely testimonials…
Sound good? You can have this little jewel all to yourselves with four members of staff, for only € 90 per person per night based on a group of ten friends.
We look forward to hearing from you soon and creating the best hen party celebration imaginable!
With fragranced love,
Lucia x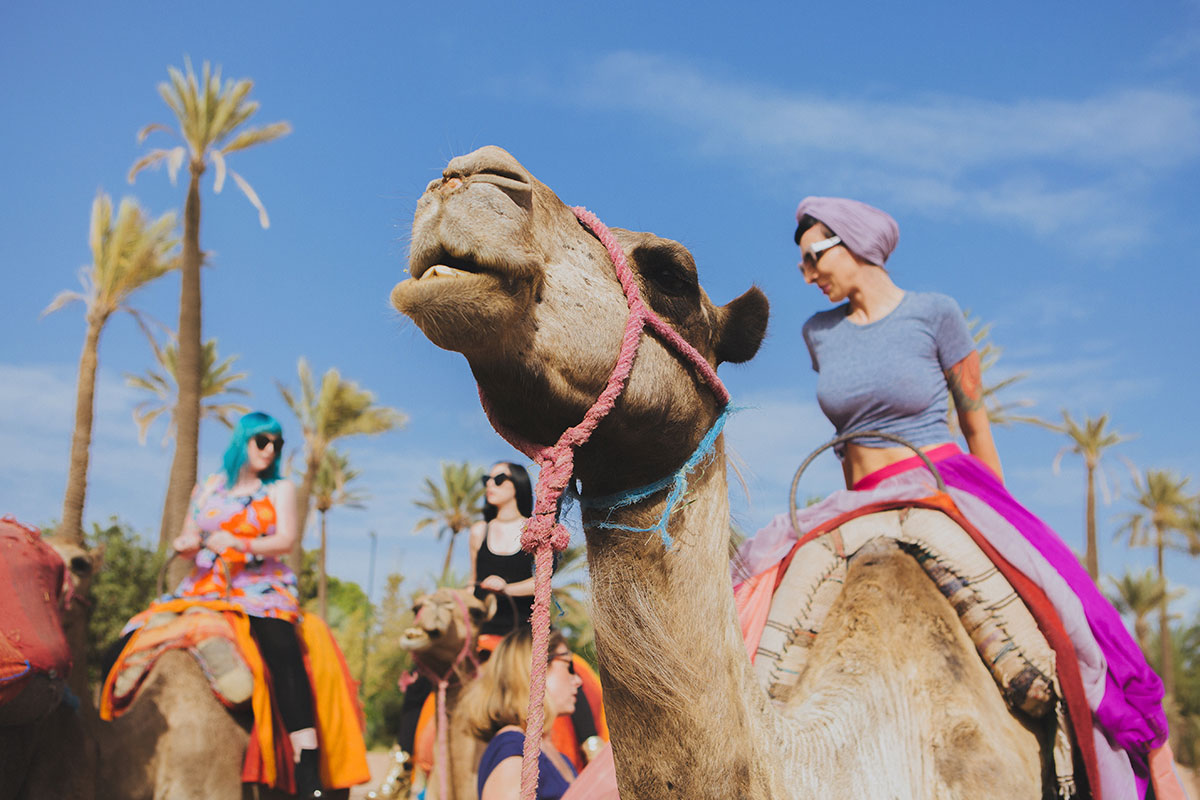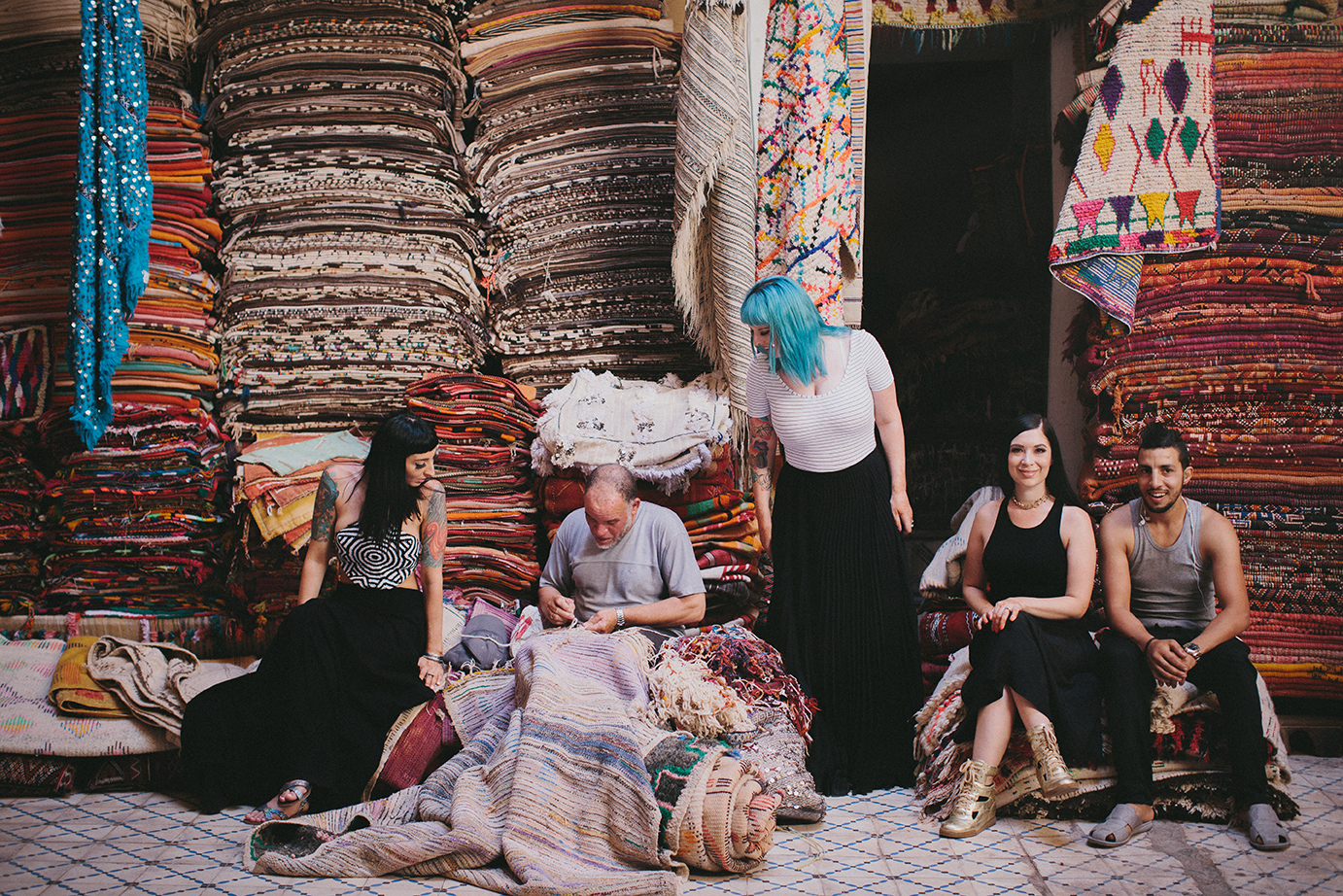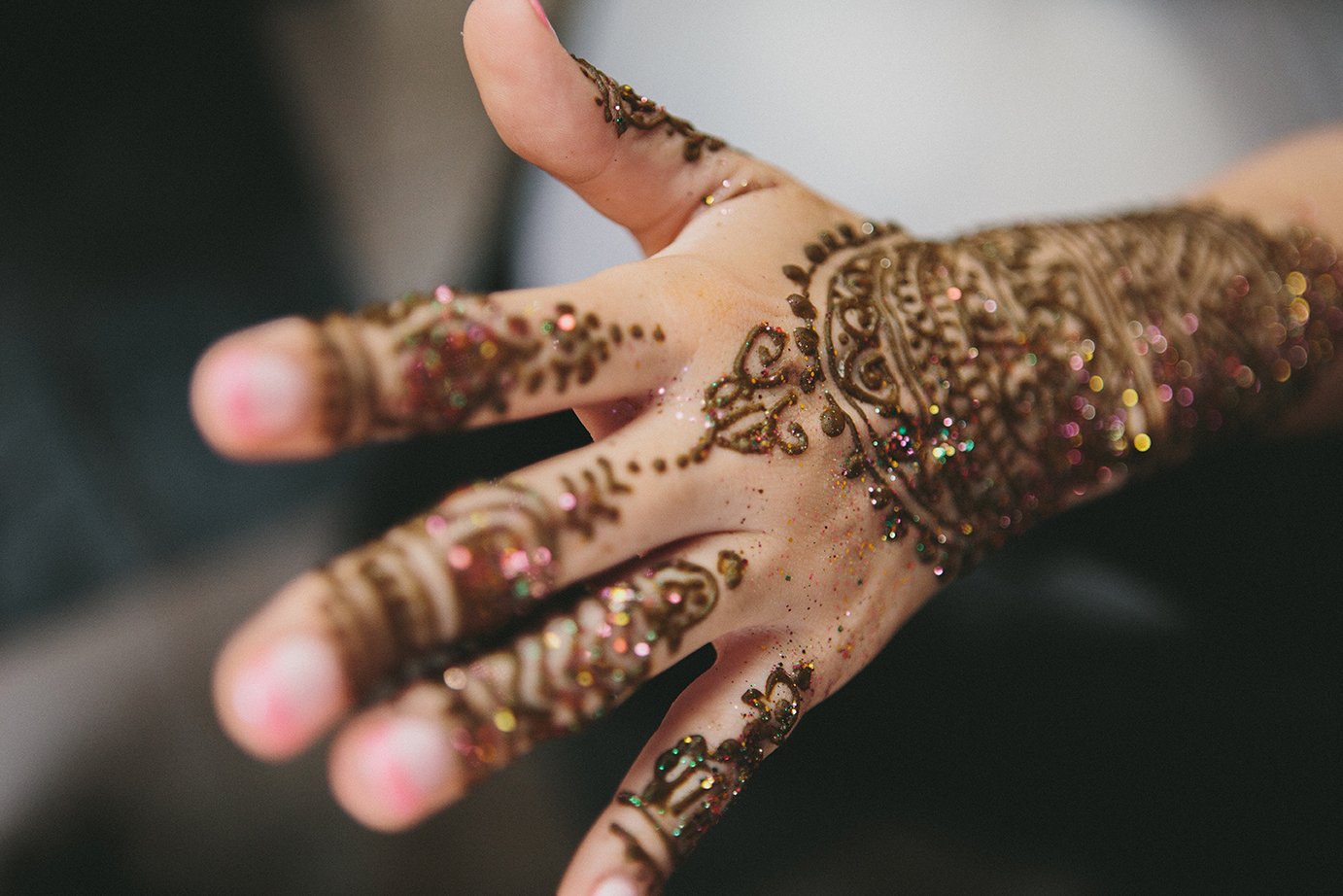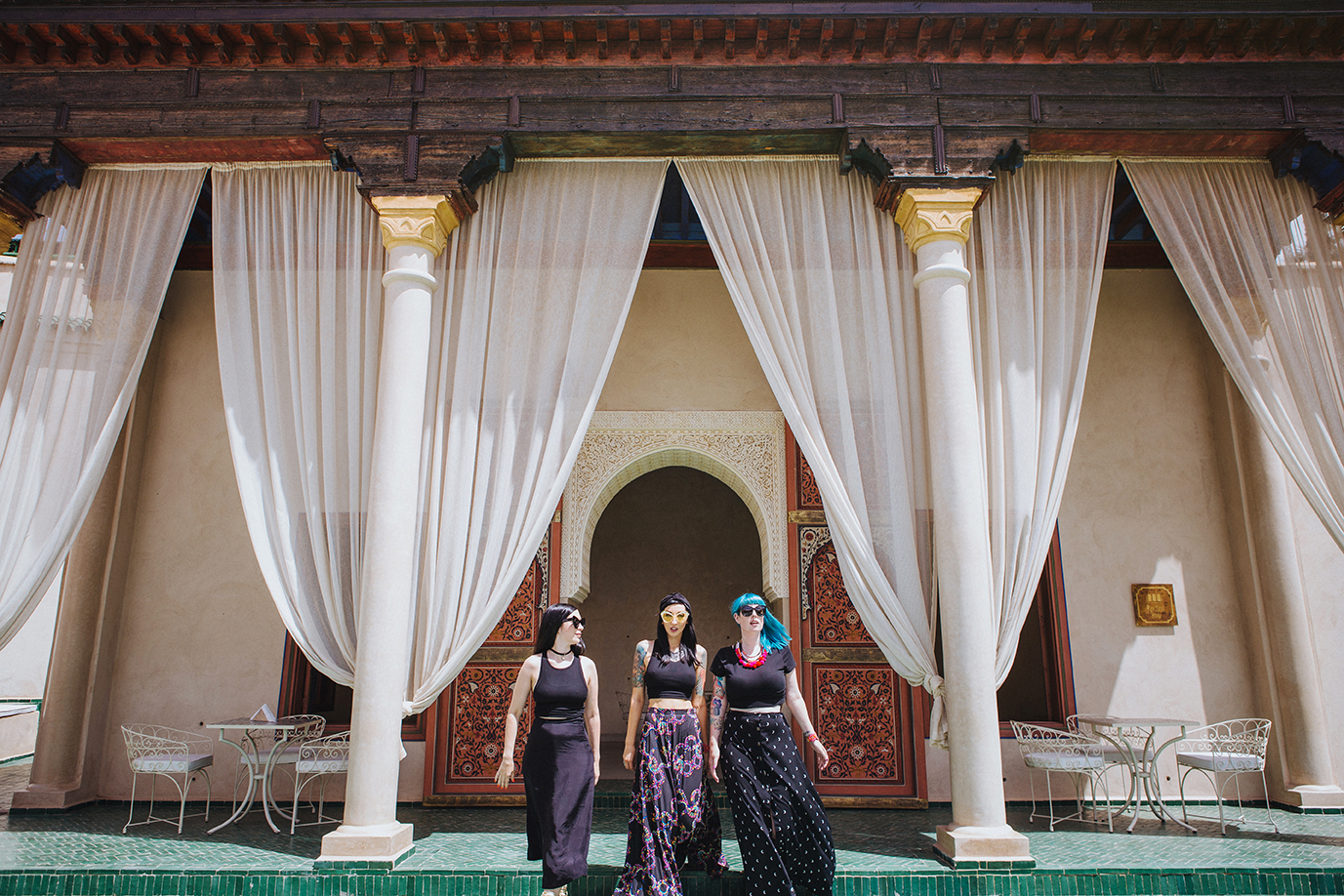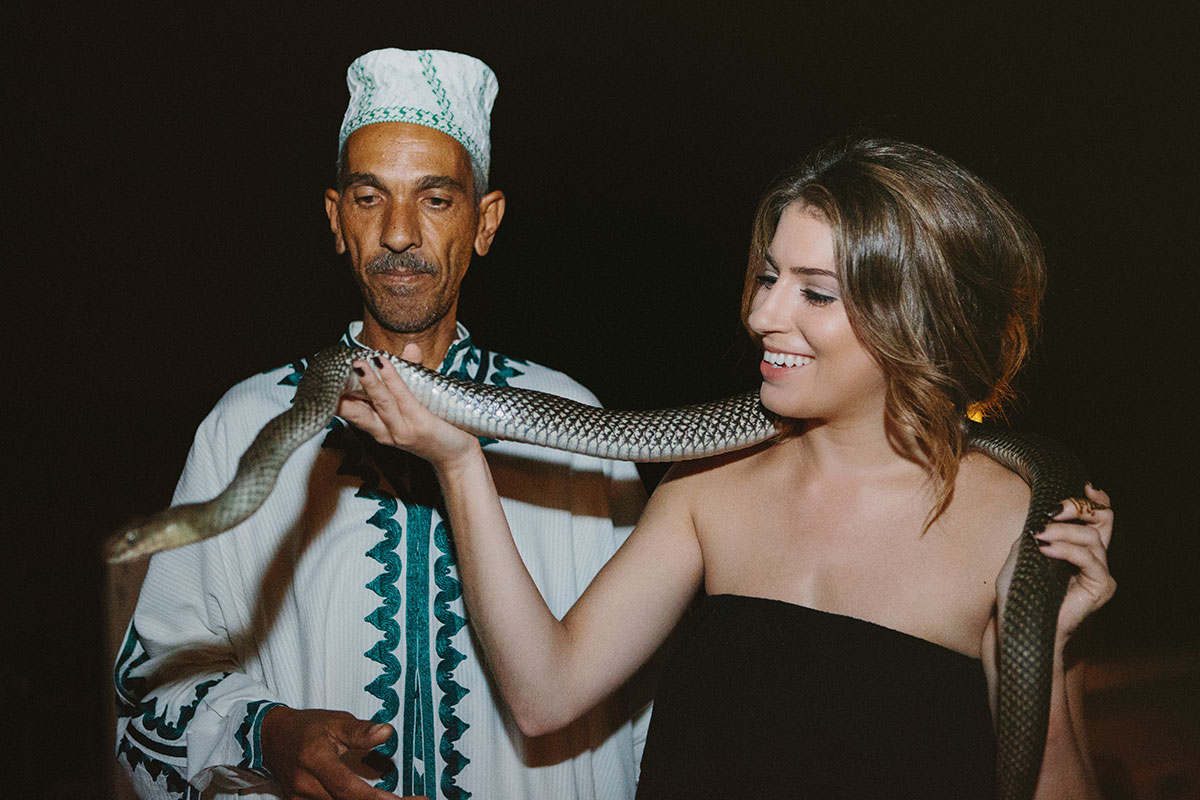 FIND OUT MORE
To receive more information
"SEX AND THE CITY" ESCAPE
For only £249 per person (based on ten guests), all of the following will be included:
Three nights exclusive hire of the luxurious Dar Jaguar, Marrakech
Beautiful private en suite double rooms for 10 ladies (at additional cost per person, 12 can be accommodated at Dar Jaguar and a further 14 can be slept right next door!)
A delicious freshly prepared breakfast every morning
A Transfer for 10 from Marrakech airport to Dar Jaguar
All hotel and tourist taxes
Saturday Night Banquet to include:
Three course Moroccan Candlelit Banquet with drinks – the menu can be designed especially for you with all your personal favourites…
Also included for you:
Exclusive Banquet Entertainment… Gnaoua musicians AND your choice of your own private fire-eater, snake-charmer or belly dancer!
Two half days with a private professional guide to take the ladies to the best shops in the souk and then to your chosen beautiful cultural sites of Marrakech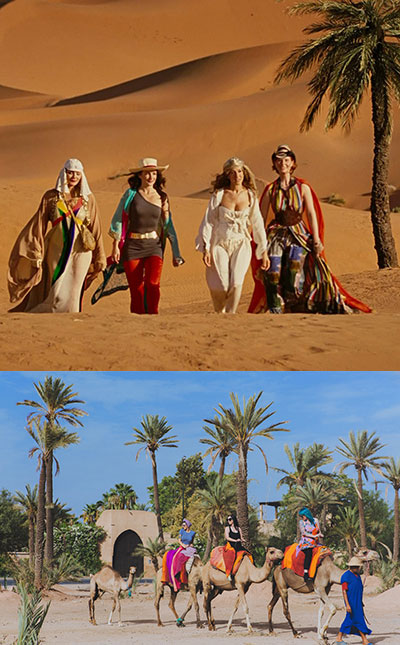 CHOOSE FROM THESE MAGICAL, STYLISH ACTIVITIES AND SERVICES:
Exclusive Use of Dar Jaguar for a long weekend (or more)
Accommodation for 10 Friends in five luxury rooms (more accommodation can be arranged if required)
Four Professional Staff at your personal service, including a talented cook and night security
A delicious, fresh Breakfast every morning on the rooftop terrace
A Private Cooking Lesson with a shopping trip and a 3 course
An exotic Full Day Excursion out of Marrakech to the mountains, waterfalls, the desert or the seaside
Camel Rides and sand dune buggying!
A Private Professional Guided Tour of the best of the souks and the finest cultural and hist
An hour's Full Body Massage or Facial
A Private Group Belly Dancing Lesson
A Private Group Yoga Lesson
Henna Tattooing for those wanting to return with an exotic imprint…
Evenings organised to get the best out of the Nightlife and Marrakech party scene
Our renowned "1001 Nights Banquet" with Magical Dar Jaguar Entertainments
WATCH "MOROCCAN ROLL"
– a beautiful Short Film of Dar Jaguar's Girls' Getaway with Rock n Roll Bride, Gala Darling and Nubby Twiglet
Moroccan Roll film by The Costa Sisters
FIND OUT MORE
To receive more information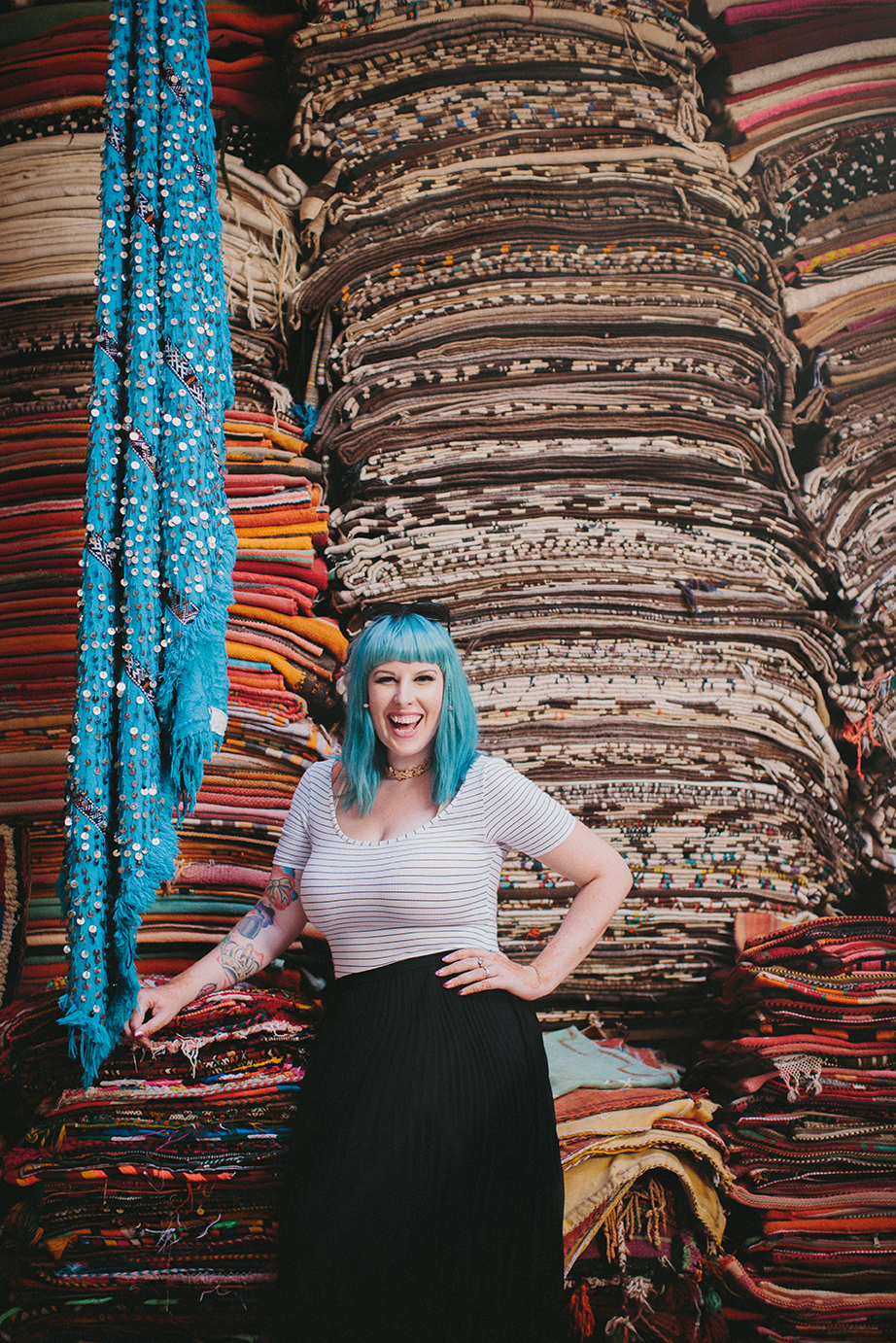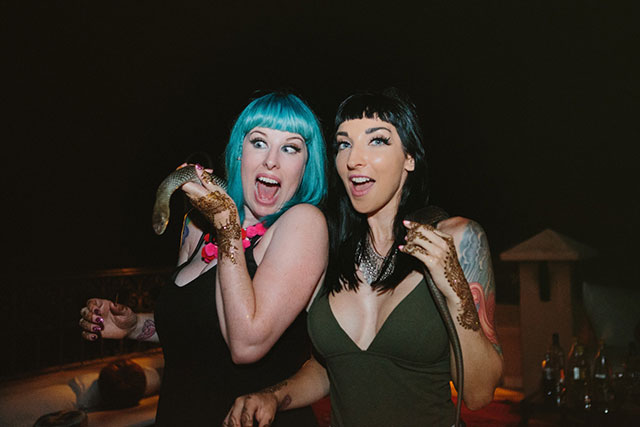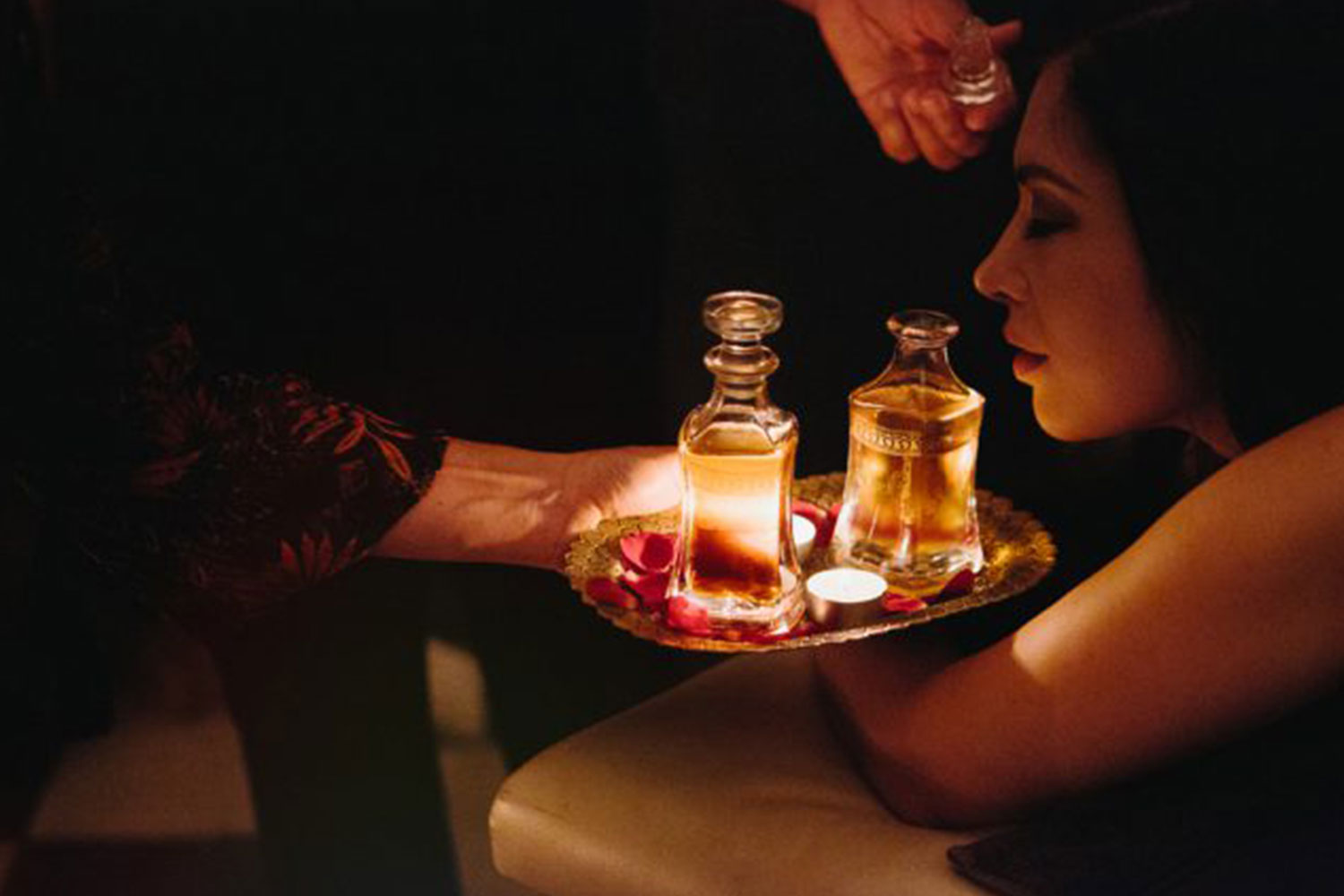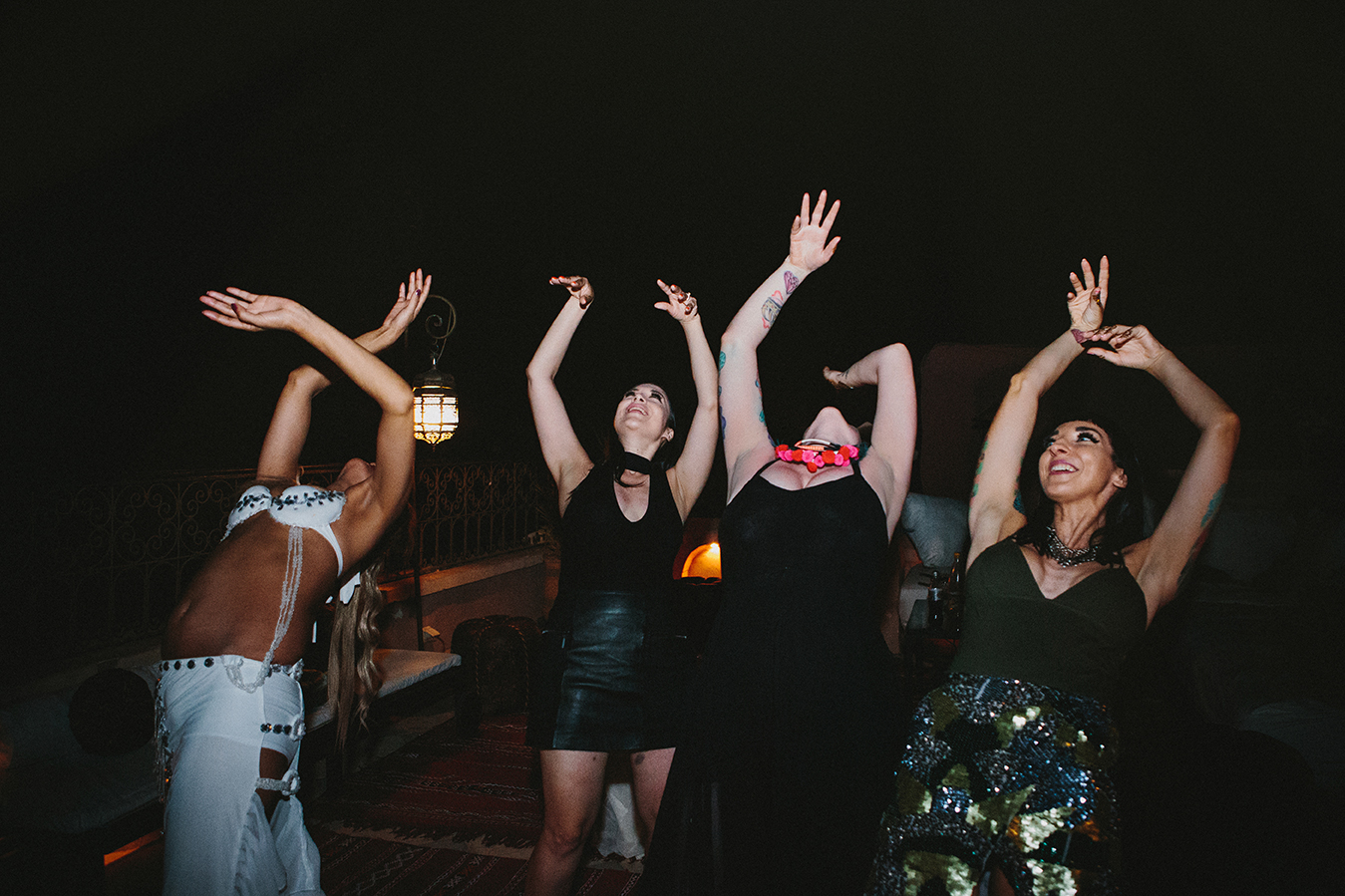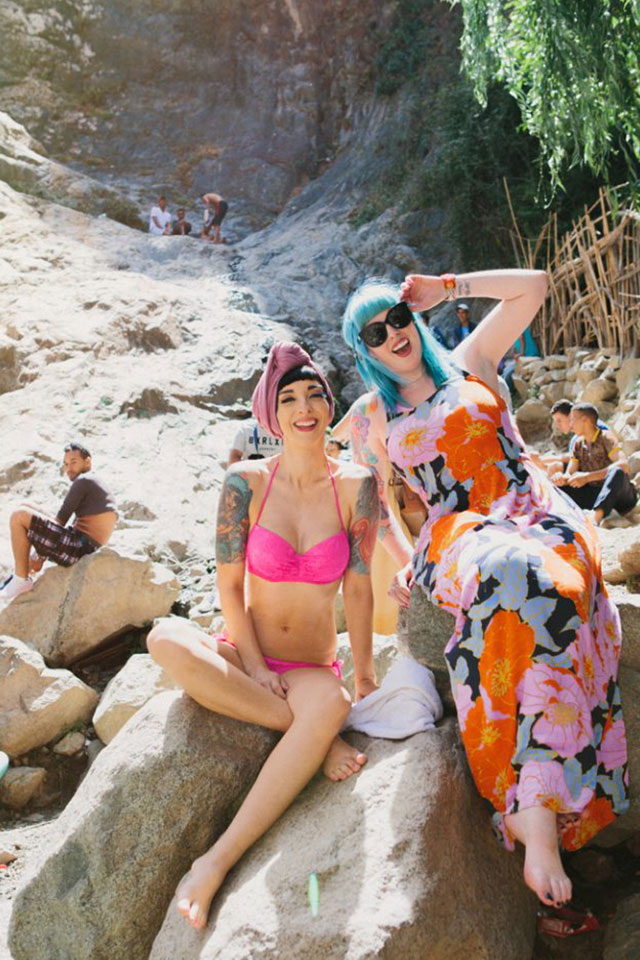 In August, my friends and I were invited over by the Dar Jaguar riad, owned by British-born designer Lucia Silver, to experience their hen weekend package. She not only offered us a fabulous place to stay, but put on an incredible itinerary to keep us entertained and inspired throughout our trip. When you visit a place more than once it's very easy to end up doing the exact same things the second (or in my case, third!) time around so it was awesome to be presented with some different options.

Lucia is a design obsessive and the riad is decorated in her own imitable and eclectic style. Leopard print wallpaper, four poster beds, golden bathtubs, deep black walls, a bubbling fountain full of rose petals, and a private plunge pool in the middle of the courtyard…! It really is like something out of your most vivid dreams!

…Before heading out to the Palmeraie for something we were all super excited about – camel riding! It was hilarious trying to get all those camels in a line to get a decent photo but so much fun! No trip to Marrekech is complete without a camel ride. On longer visits you can even arrange to do them out in the actual desert, which is a few hours drive from the city.

I was grateful to have Dar Jaguar to head back to at the end of the night though. Lucia even treated us all to hour long full body massages before bed. Wow!

Thank you to Lucia and everyone at Dar Jaguar for putting on such a spectacular few days. If you are looking for a unique hen weekend or honeymoon spot then you must check them out. As well as providing accommodation, they can put on bespoke itineraries for you too, just like we did.

Dar Jaguar, a divine (and divinely intimate) riad in the heart of the souk. Dar Jaguar is owned by Lucia Silver, a couture fashion designer from Notting Hill, and the very definition of a British eccentric. As soon as we met, I knew we were kindred spirits, and this was proven to me over and over again as the week wore on.

Yet another reason we loved staying at Dar Jaguar? We had the whole place to ourselves. Spoiled rotten. Scented oil massages in the courtyard, next to the fountain which was full of roses and floating candles…

Our belly-dancing lesson was absolutely one of the highlights of the trip for me. I really enjoyed trying something unfamiliar and getting out of my own way.

I have to say an ENORMOUS thank you to Dar Jaguar and Lucia for organising such a stellar trip, and I recommend her beautiful riad with my whole heart. I cannot think of a more wonderful place to host a hen weekend or bachelorette party, to have a Marrakech honeymoon, or just escape on a romantic getaway with your beloved… Lucia is a sweetheart with wonderful attention to detail, and you will feel like you are staying in your very own home.
Please contact us below for more about our Girls' Getaways!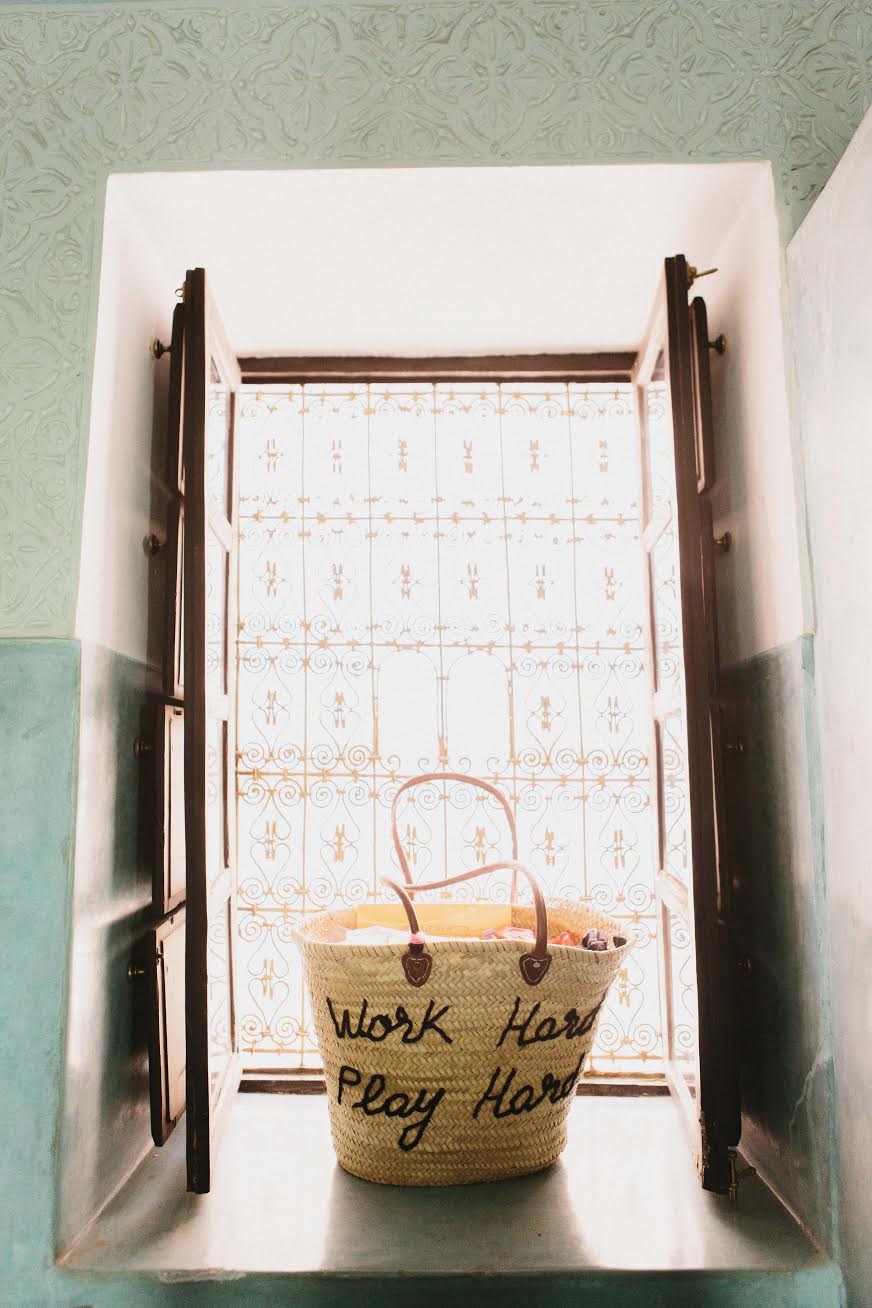 Never again will I consider spending a fortune on an expensive hen weekend in the cold English countryside. Lucia's Girls Getaway at the stunning Dar Jaguar was the experience of a Lifetime. The ten of us will never forget it – perfect sunshine, THE most beautiful house, brilliant staff, delicious food and the perfect "Sex and the City" itinerary – all arranged for us!
FIND OUT MORE
To receive more information